Next: Installation
Previous: Table of Contents
Introduction
Raptor™ SDR Development Kit combines state-of-the-art capabilities with a flexible design, resulting in a compact, efficient solution for multiple mission requirements.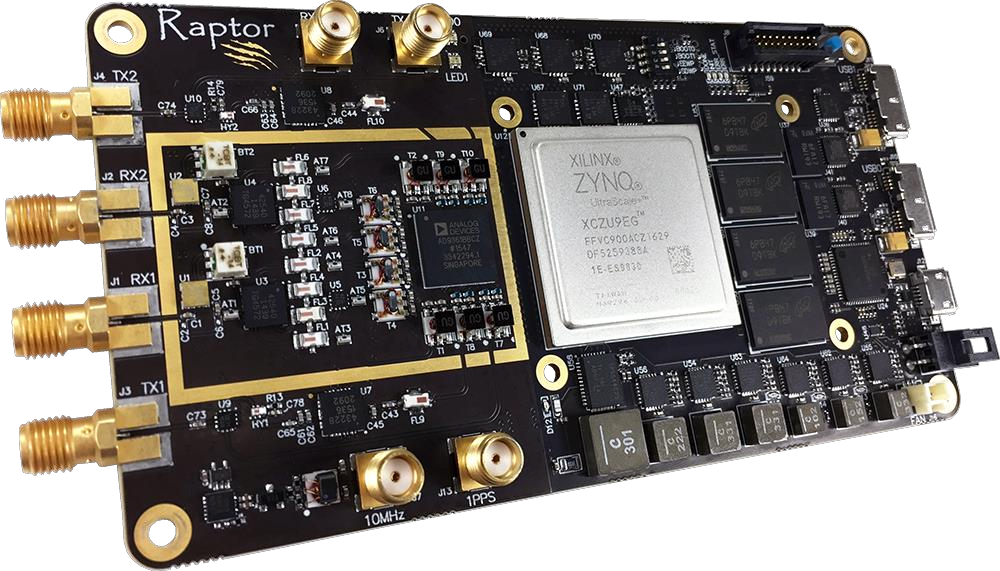 Raptor Board
Features
Zynq UltraScale+ XCZU9EG-1FFVC900E Devices
Analog Devices AD9361 2x2 MIMO RF transceiver (70 MHz to 6 GHz)
Wideband LNA and selectable filter bank per receiver
Bypassable 2.4 GHz 29 dBm power amplifier per transmitter
External timing inputs (i.e., 10MHz, 1-PPS) supported
4GB 64-bit DDR4-2400 attached to Processor Subsystem (PS)
MicroSD memory card interface
128MB QSPI flash memory (dual parallel)
Dual USB 3.0 interfaces with USB 2.0 OTG compatibility
USB 2.0 UART (i.e., console) interface
Expansion connector for optional I/O mezzanine
Flexible 9V to 16V supply input
Compact form factor (5 x 2.675 in)
Compatible with ADI (FMCOMMS) drivers and reference designs
BSP, drivers, and COTS tool support included with purchase
---
Specifications
Specifications
Processing
System-on-Chip
Xilinx Zynq UltraScale+ XCZU9EG-1FFVC900E FPGA
FPGA
600,000 system logic cells 2,520 DSP slices
SoC Application Processor
Quad-core ARM Cortex-A53 1.2GHz, 64 bit
SoC Real-Time Processor
Dual-core ARM Cortex-R5 500 MHz
RF
Transceiver
Analog Devices AD9361
Tuning Range
70 MHz to 6 GHz
Bandwidth
Up to 56 MHz 61.44 MSPS complex 12 bit resolution
Receive Path
On-board LNA and four-band preselector per receiver, run-time configurable
Transmit Path
Low-power, full tuning range path and high-power 500 mW 2.4 GHz PA path, run-time configurable Accepts optional external LO
Digital Interfaces
Timing Signals
1 PPS, 10 MHz reference, serial timecode (SMA)
Mezzanine Board Expansion Header
2x 24 bit banks (PL) with selectable I/O voltage: 1.8 V, 2.5 V, or 3.3 V 4x 12.5 Gb/s serial transceivers (PL-GTH) 2x 6 Gb/s serial transceivers (PS-GTR) Various PS peripherals (Ethernet, SPI, I2C, UART)
Development Interface
BSP, drivers, JTAG, and COTS tool support
Mechanical
Dimensions
L x W: 5" x 2.675" (127 x 68 mm) H: 0.681" (17.3 mm) (Raptor only) H: 1.5" (38 mm)(with Expansion Mezzanine)
Mass
Raptor with heatsink: 115g Raptor,board only: 85g Raptor,Expansion Mezzanine, heatsinks :175 g (no SSD, SFP+)
For a more comprehensive list of specifications, refer to the
Raptor web page
.
---
Block Diagram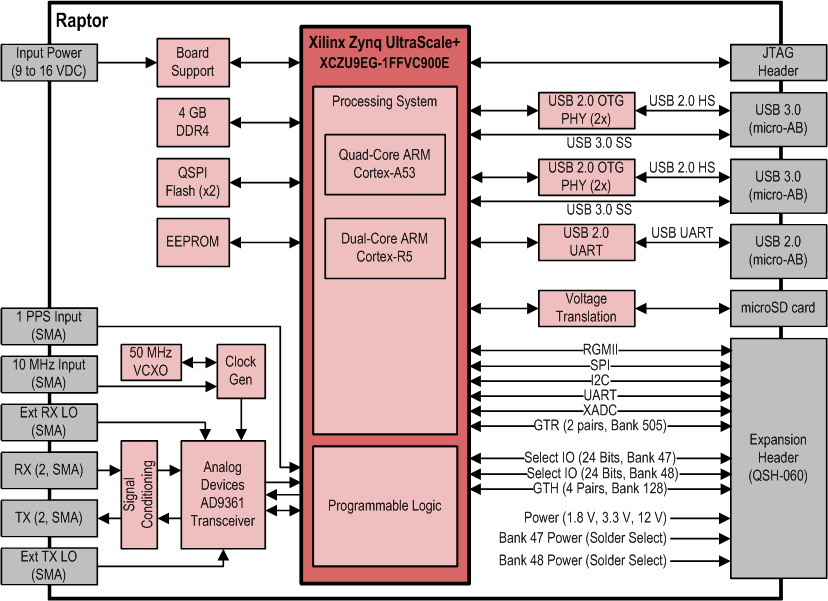 ---
Device Callouts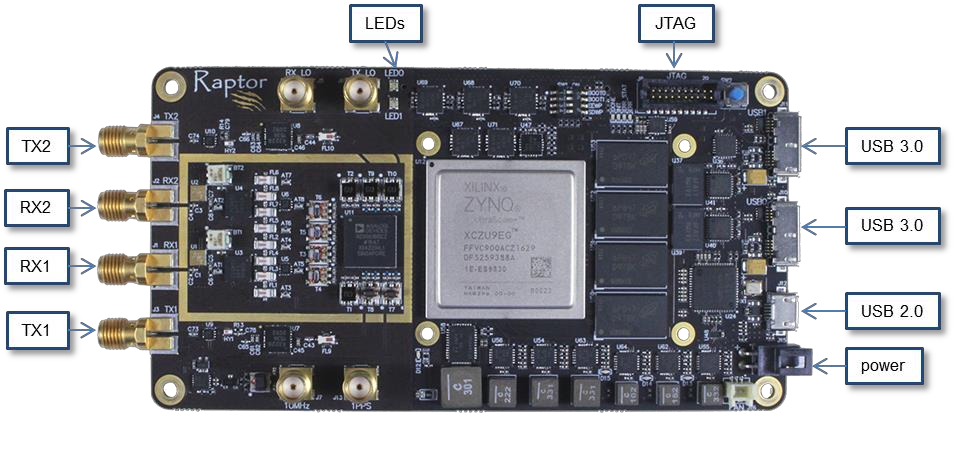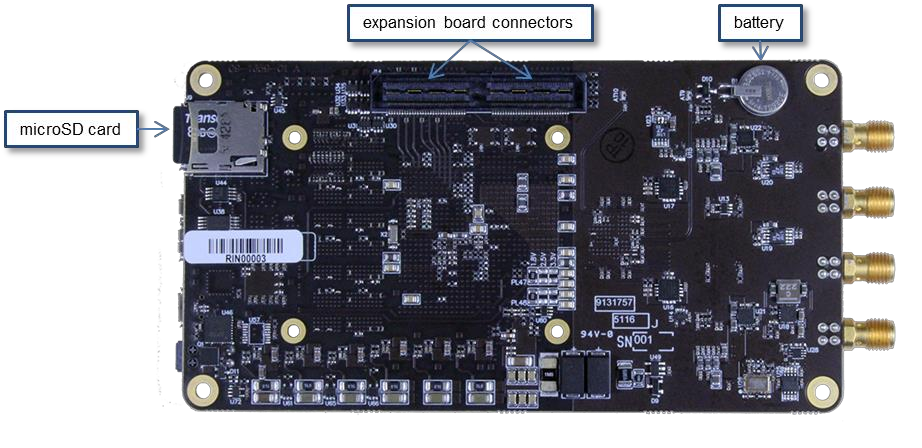 ---
Expansion Board
The Raptor Expansion board adds more functionality to the main Raptor board. This includes M.2 SATA , DisplayPort, 1G Ethernet, Firefly, Dual SFP+, IRIG B, I2C, SPI, UART, 16x GPIO and an 8-channel configurable ADC/DAC/GPIO.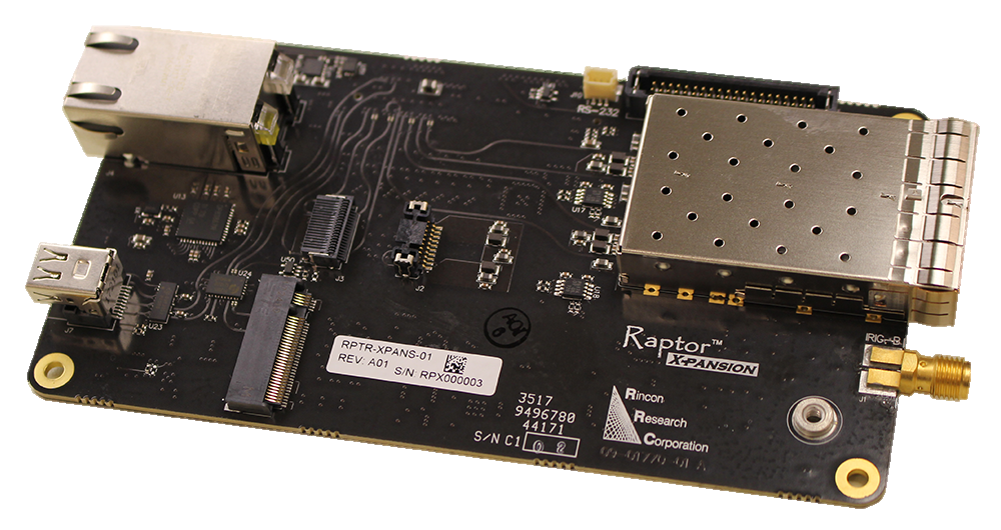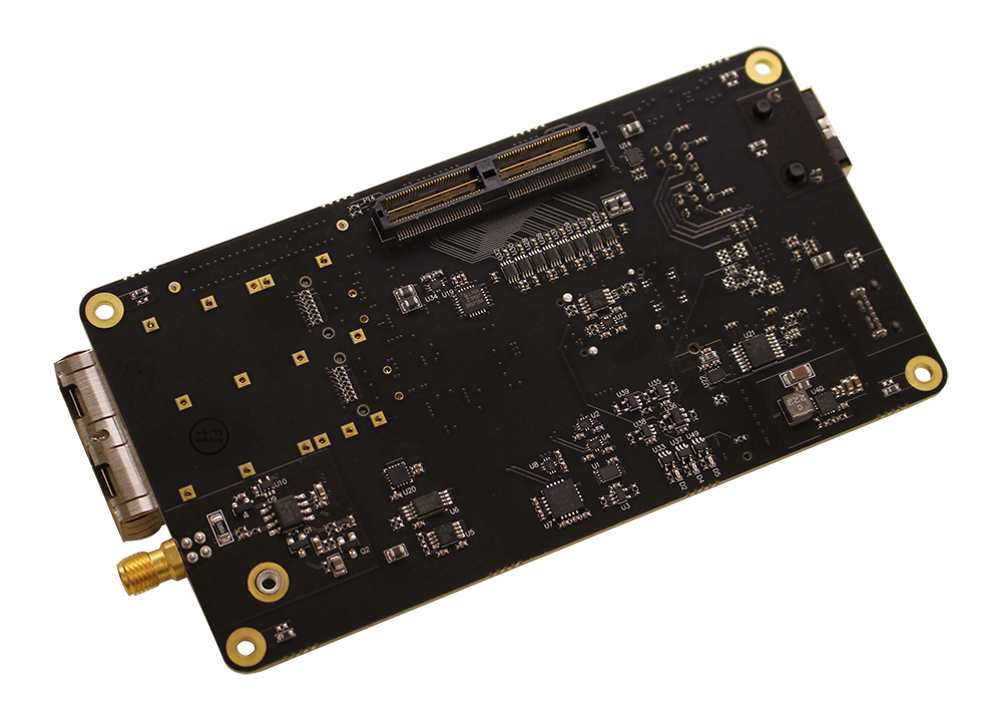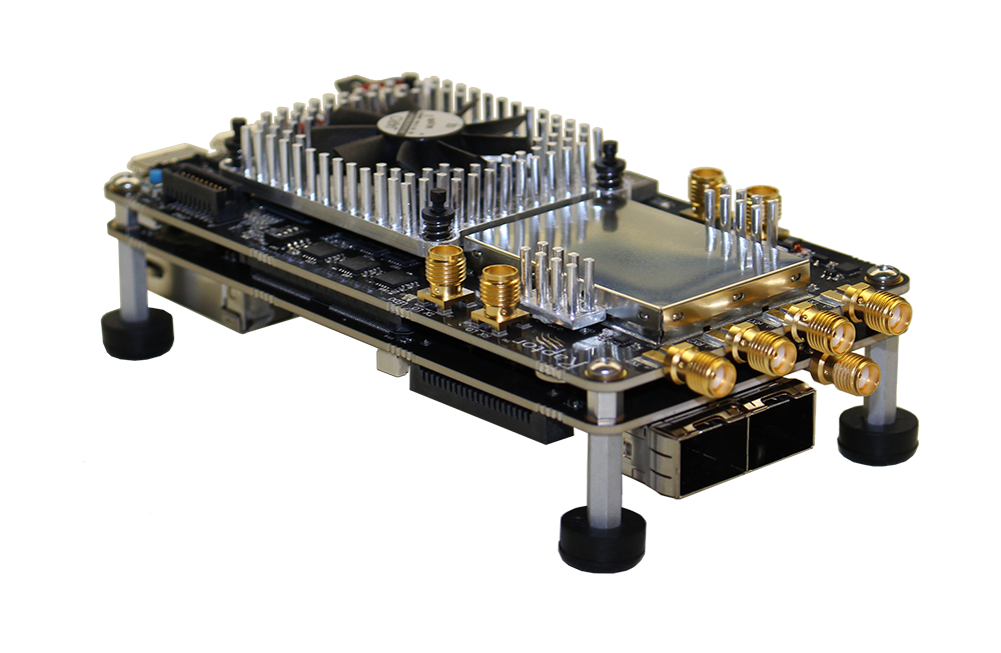 ---
Block Diagram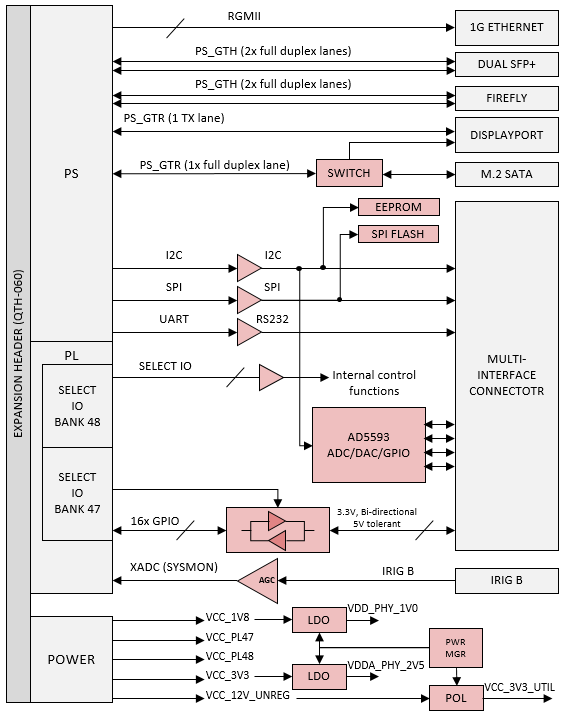 ---
Next: Installation
Previous: Table of Contents